Business Continuity & Disaster Recovery
InfoScale Availability
InfoScale Availability provides high availability and disaster recovery over any distance for your critical business services, including individual databases, custom applications, and complex multi-tier applications across physical and virtual environments.
Intelligent monitoring for applications and infrastructure detects possible risks to availability and automatically recovers applications when needed. InfoScale automatically detects site outages and either automatically or at your command will recover to a disaster recovery site. With built-in testing to proactively detect and report potential problems before they have an impact on IT services, InfoScale Availability helps minimize unwanted downtime of your critical business services.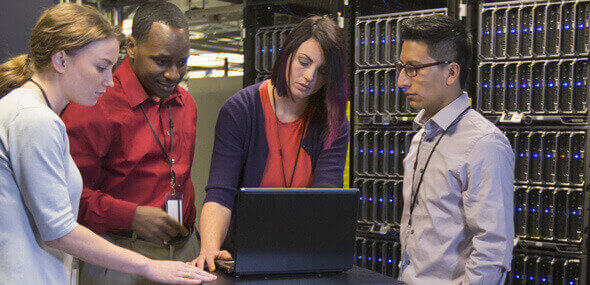 Resiliency Platform
Meeting uptime service level objectives across public, private and hybrid clouds with multiple point tools can be complicated and costly. Resiliency Platform helps you proactively ensure application resiliency across your constantly evolving and heterogeneous multi-cloud environments with a single solution, including Amazon Web Services (AWS) and Microsoft Azure.
Automation: Full automation and dependency orchestration for resiliency and migration operations
Predictability: Real visibility and tracking of Recovery Time Objectives (RTOs) and Recovery Point Objectives (RPOs) via a single web-based dashboard
Compliance: Audit reporting along with non-disruptive testing helps prove compliance to business continuity regulations
Mobility: Move workloads between on-premises and cloud or even between clouds with single-click operations
Flexibility: No rip or replace – easy integration into current on-premises environments and future cloud technologies
Risk Advisor
Given the wide range of equipment, the high pace of change, and the several diverse teams involved in today's data centers, even the best-run environments can suffer from configuration drift: discrepancies between your intended and deployed states which can remain undetected until it is too late. These configuration gaps can be mapped to five categories of sources:
Cluster-related
Application-related
Operating system and hardware-related
Network-related
Storage and SAN-related
When undetected, a single configuration error can lead to unexpected downtime and/or data loss.